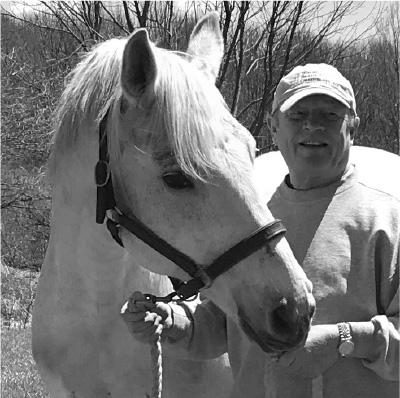 Paul Alvin-Smith
International Grand Prix Dressage Competitor/Coach/Clinician
Dulwich, London is not the address you might expect for riding opportunities. But Paul was fortunate to start riding at a very early age under the tutelage of James T. Bellman, who ran a very tight ship at the Dulwich Riding School. Belman was a lifetime student of his mentor, Alois Podhasky, Director of the Spanish Riding School and at a similar time also produced British team member Dane Rawlins. Paul received an all around equestrian education but emphasis was always in the classical works. Routine workouts were strict and disciplined and the horse was always right. Paul developed an impeccable independent seat and worked through grueling workouts to become a lead pupil. As a star student at the Dulwich School through his childhood, Paul was given the opportunity to exchange at the Spanish Riding School. He also earned his Pony Club A-qualification.
On arrival in New York, Paul began working with Raul de Leon, who was the dressage coach for Olympic gold medal winner, eventer Tad Coffin. Paul's energetic Morgan horse was a difficult horse to ride and often exhibited bouts of errant rearing and various challenges. Raul and Paul persisted with classical basics to make the horse into a more confident and trusting partner over time. Fortunately, Paul is always up for a challenge and loves training horses!
When Paul and wife Nicola moved house from Cold Spring Hills, Long Island to Pawling, New York the farm they purchased provided an opportunity to keep horses at home. During this period Paul continued competing horses of many breeds and taking instruction from highly regarded international level dressage trainers up and down the East coast.
Shortly after moving to Pawling, Willowview Hill Farm began a Warmblood and Iberian breeding operation. Paul would start the young home-produced horses from scratch. When Elite auction horses arrived home from Vechta and Verden, he took each individual and worked diligently to assure they reached their potential.
Paul would travel to Denmark, Sweden, Switzerland and Germany, to procure new horses for clients and also worked with Swiss FEI coach Greta Kemmer adding to his European competition record and scoring over 72% in the Grand Prix ring.
Together Paul and Nicola developed horses for the Willowview Hill Farm Elite collection across the pond in Spain and the United Kingdom in partnership with long time friends in those countries. The breeding of Lusitanos and Andalusians under their international umbrella, Willowview Hill Farm International, was undertaken many years before these breeds rose to popularity in the modern day dressage market.
Since purchasing the 76 acres of south-facing, tillable farmland in Stamford, NY, in 1998, Paul has been busy keeping WVH produced horses schooled, as well as building the new facilities at Willowview Hill Farm.
While building is always an ongoing and seemingly never ending project, Paul also finds time to manage and cut the hayfields and as a result Willowview Hill Farm has become known as a great source for organically grown horse hay in the North East USA. Hay from Willowview Hill Farm has also been exported abroad over the years.
During the past 10 years, Paul and wife Nikki have become a highly unusual clinician duo, working together with each horse/rider in 50 minute sessions at their highly sought after events at international tours. While Paul focuses on guiding the rider through instruction, Nikki addresses the lesson from the horse's POV. This very unique symbiosis between two people that know each other so well and have trained through the years with a similar network of world-class tutors, brings an exclusive method of training for dressage aficionados.
Due to their hectic clinic schedule, the couple made the difficult decision in 2020 to retire from horse breeding to focus their energies on dressage clinics; a limited number of on-site dressage training board clients; and a special offering of intensive retreat programs at WVH.
" Without question my greatest influences in dressage have been Dr. Reiner Klimke, and the wonderful intensive training I enjoyed in Germany with Herbert Rehbein. Like Dr. Klimke used to love, I enjoy working with hotter horses. Compassion is always key in every rider/horse partnership and figuring out the mind of the horse is always the best way forward. No force. Rehbein was a man of few words, and when he engaged it was often by example on the horse rather than by voice from the ground. His advice was always on point. It was a thrill when he'd step out of his chair and come up close to work with you. There have been, and continue to be many teachers in my life. Not least the horse variety. One lifetime certainly is not enough to learn all I'd like to learn about horsemanship and dressage training. At present I am very excited to start work with our home produced Lusitano/Dutch Warmblood lad, Extravaganza WVH, who is a 2nd generation product of our own breeding program. He combines the pedigree of the noted black stallion as his maternal grandsire Gambol, who competed successfully on the Canadian dressage team with Ashley {Holzer} through his dam, Gambol's Georgy Girl WVH, with his own sire Briosi. Briosi is another black stallion, a Lusitano bred by our long time friends in Jerez, who has a smatter of Andalusian Olympic lines in his pedigree………" Paul Alvin-Smith